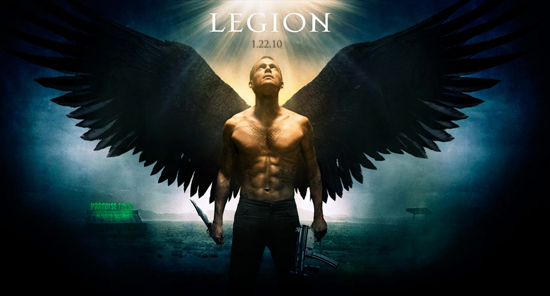 I just ran across an advertisement for this film, due to be released January 22, 2010. Would you say that our society is hungry for God?
Vampires. Now dark angels who really aren't so dark. These seem to be the new trend; for example, read this article about up-and-coming book releases
HERE
:
I don't even know where to start with Legion; the Biblical inaccuracies and mangling of the Christian faith even from this small summary are a wonder to behold. Blasphemous? You bet.
For now I'll just post the synopsis as listed on Wikipedia. What do you think?
*
Legion is an upcoming apocalyptic fantasy film directed by Scott Stewart, from a screenplay written by Peter Schink and Scott Stewart, and starring an ensemble cast headed by Paul Bettany.
After God loses faith in humanity, the archangel Michael (Paul Bettany) is the only one standing between mankind and the apocalypse. This time using angels as the act of Biblical judgment, God's wrath descends on Earth to exterminate the world's population. In a desperate, last-chance gambit, Michael leads a group of strangers to a small New Mexico diner to protect a young waitress who may be pregnant with Christ in his second coming.